🇺🇦 NO WAR
NO TO RUSSIAN MILITARY INVASION OF UKRAINE

TO DRAW ATTENTION TO AN ISSUE

print on syntetic satine, hypoallergenic silicone, pigment, metal, durt
The triptych wall piece is the first part of the project «to draw attention to an issue» whose research lies in an interpersonal conflict overcoming in a correlation with the militarization of social, faith management, and complexity of physical and psychic pain.

The chosen materials can be separated into two groups: ones that are immanently corporeal such as silicone, leather, and dust; and others that are technological quasi-intruders such as metal disks, synthetic fabric, and printer ink.

In the other recent projects, silicone is used as the main material which stands for a body or a skin. Here the silicone is also about a body but as a notion of two: psyche and physic. The skin is a protective barrier but also a frontage. It shows and it hides. The corrosion or more like scars on the skin is in-game navigation markers from the Counter-Strike game series.
These scars are silent aid but also a witness of military plots and personal strategies of concurring.

The three graphic works are a mixture between the hand-drawn pieces and images touched up in Photoshop. That alliance helps to get away from a formal hierarchy between eternal youth and decay. The motifs of the works are deeply bound with automatic drawing and psychoanalysis.

To be short, this work can be perceived on the level of a performance or a dance. Something acquired to get away from life by living, which is always about pain and power. The higher the power, the higher the pain. To be in pain is to be in a process, to be in that particular moment. To be present and not being able to tear yourself from yourself. This is what the collision of corporeal materials with technological ones stands for.

NOTHING HAVE I EARNED...NOTHING HAVE I EARNED.

Flag piece: print on syntetic satin,

150 x 220 cm

Cake piece:

concrete, hypoallergenic silicone, metal, pine needles, rust, sound in a loop 12'17"
IN HOPES BUT OFTEN IN A CONTRADICTION.
ALLEGRO AGITATO
ISSMAG, Moscow

radiator, hypoallergenic silicone, edited track 'Molotov' by Korol I Shut, varnish, rust, resin, A4 paper, poetic interview, soil, construction clamps, fabric, church wire-system, drawing, oil traces, ceramics, 2 chanel audio-system, sound 06'54"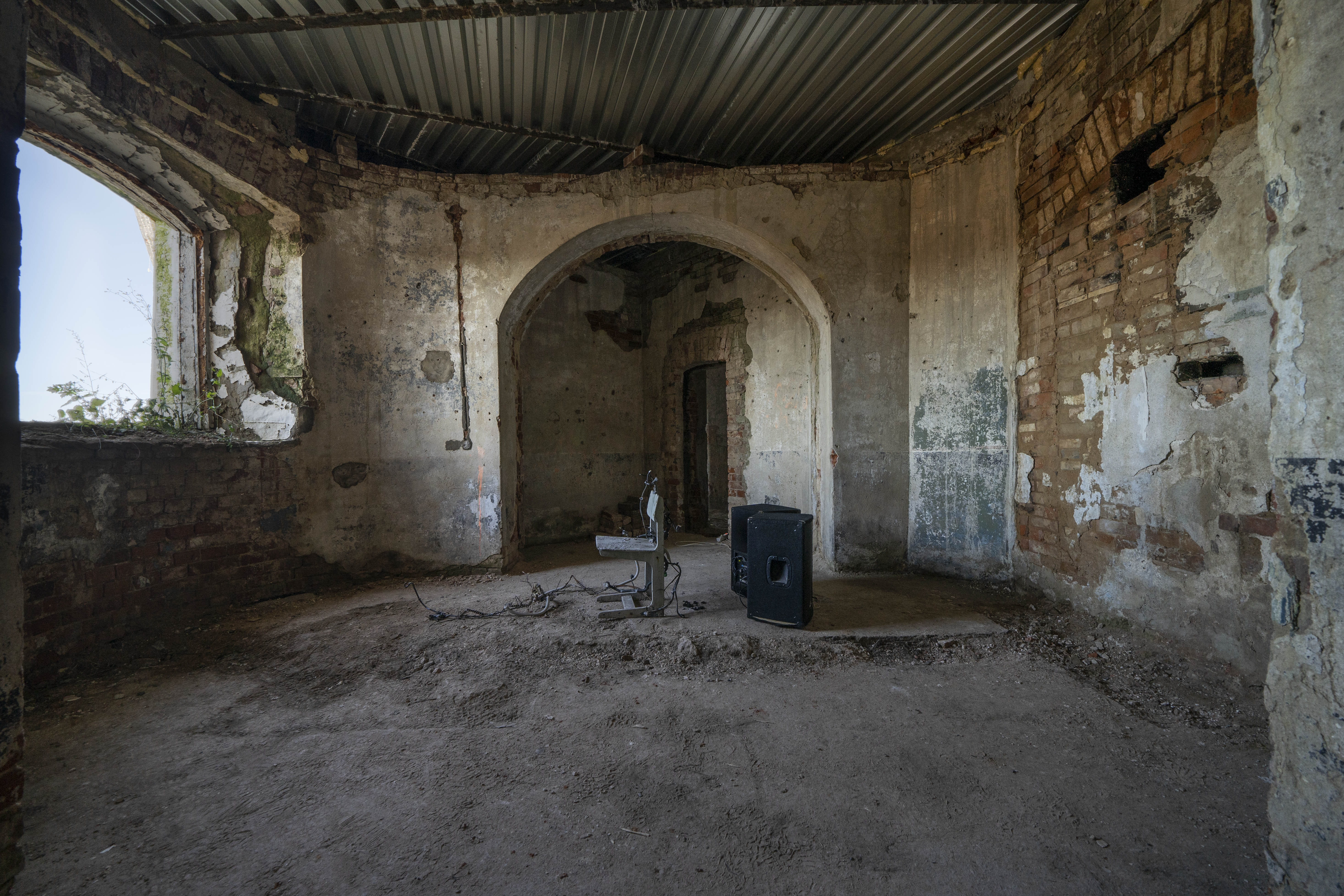 REQUIEM: LITHIUM BANK
Prison castle, Borovsk

soviet period chair from the 'Krasny Oktyabr' cloth factory, mattress fabric, rust, steel, pleated tubes, fragment of a car engine, construction adhesive, timer, human hair, looped sound 12'05"


everything breathes ashes of the past

no use in saying that the split lies as it should
should not

so much power is spent on thoughts
on physical suffering
as it is used to be
sailing from one bank to another
wishing to bring banks together, to composite

but

the forces of inhuman nature are present
persistent towards man's whims





so
what is left is to test the spiritual cultivation of oneself
to test limits of turbulent physique
what is left is to wear the boots out till the bones
bringing the banks together
as they used to stitch countries up with corpses

layered meat pie
with a prune and redberry confiture
who would kindly light a candle
who would worry about a shame

same mechanism
same system
terms differ
the smell of knees fermented by the waiting for a ferriage
another cycle

no





eternal loop
no rejuvenation
and was not
as well as candles

the shame contradicts the ashes